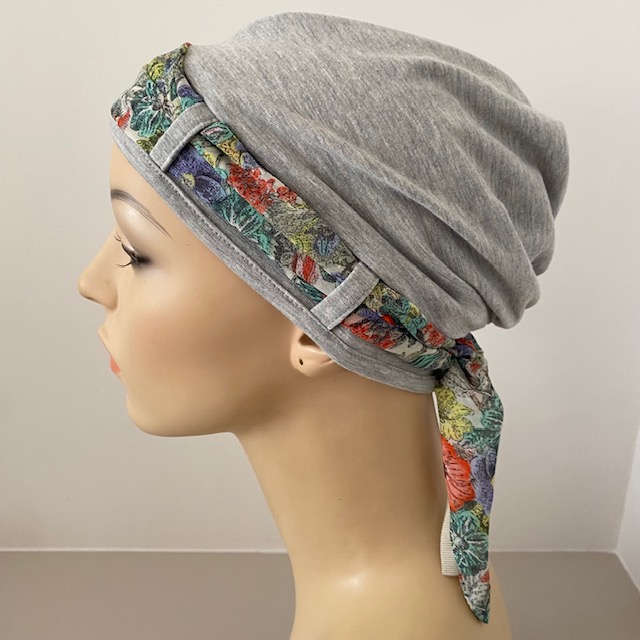 Cotton is a natural fiber and one of the most common plants on earth. It has been woven into fabric and turned into clothing since ancient times. The texture, thickness and softness of the resulting fabric has a lot to do with how the cotton was grown and the fibers were handled during the manufacturing process.
The dyes used and process followed to dye the fabric also plays a role. At Compassionhat.com we buy locally produced (South African) cotton that is manufactured and dyed in a cotton mill that uses environmentally friendly practices. The dyes used contain no carcinogenic, hormone disruptive, toxic, or harmful chemicals, making our Chemo headwear a good, safe, choice.
For our Compassionhat Cotton headwear range we mostly use 180g Cotton Lycra, allowing some volume but ensuring it is light on the skin, like a good quality T-shirt. Our Cotton Lycra normally has a 95% Cotton, 5% Lycra content. The Lycra provides a bit of stretch, making our hats one size fits most.
Pros of using Cotton for Chemo headwear:
Cotton is a natural fibre
It is breathable, making it naturally cooler than a synthetic fabric
Cotton drapes well and can add volume and fullness to a hat
At Compassionhat we select Cotton that is soft and gentle on sensitive skin
Below is a list of the styles available in our Cotton Lycra range, which carries the CANSA Smart Choice Seal:
Sleep Caps
Landa Turbans
Classic Turbans
Mihla Hats
Pleated Beanies
Modern Berets