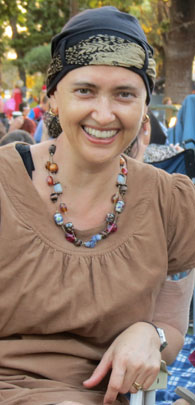 Compassionhat was inspired by, and our products are made in memory of, my sister Yolanda Rackham 1968 – 2015.
How we started:
My sister in Australia was diagnosed with acute leukemia in August 2012. She started chemotherapy the day after diagnoses, with no time to prepare. Her hair all fell out right after the first 5-day cycle of chemo. This was much sooner than she had expected and added additional stress on top of everything else she was dealing with. She sent me a photo of herself with a scarf wrapped around her head, looking so sad.
I decided to fly out to be with her for the second course of chemo and began looking for some head wear to take along. I couldn't find anything suitable in South Africa but was amazed at the number of international products I found, and at how beautiful these hats were. My sister was very grateful for these hats because they gave her back her dignity. Having soft feminine head wear allowed her to face her family and friends again with confidence.
After that visit I began thinking about all the women in South Africa who are affected by cancer and chemo-induced hair loss and what a struggle it must be to find suitable, comfortable headwear while you are feeling sick and emotionally and physically drained. I wanted to get involved and make a difference to these women and I started Compassionhat.
Whether you want headwear for a hospital stay or for when you go out, I hope you'll find something here and that it will make you feel beautiful!
In Yolanda's memory, I donate 1 sleep cap to a lady in need of some compassion, for every confirmed order I receive, as this is exactly the type of thing she would have done.
Sue